If you're new to Hope or interested in who we are and what we're about then this is a good place to start.
About Hope
Hope Community Church is a vibrant church whose home is Hope Chapel in Hotwells, Bristol. We are a real mix of people from different backgrounds and walks of life who all contribute to the life of the church. Our main gathering is on a Sunday morning where we worship Jesus, learn about Him and come together as a community. Everyone is most welcome. Hope Chapel is open at different times during the week-hosting a Prayer Centre for the city of Bristol. We also host mid-week church gatherings and many local community activities. Hope Community Church is led by pastors Chris and Alice Bond and a team of Elders, is a member of the Congregational Federation Ltd and is a UK registered charity (charity number 1134290).
Our Vision, Values & Dreams
Vision:  To bring hope to all people through the good news of Jesus Christ.
Values: Hear it, Pray it, Do it!
Dreams: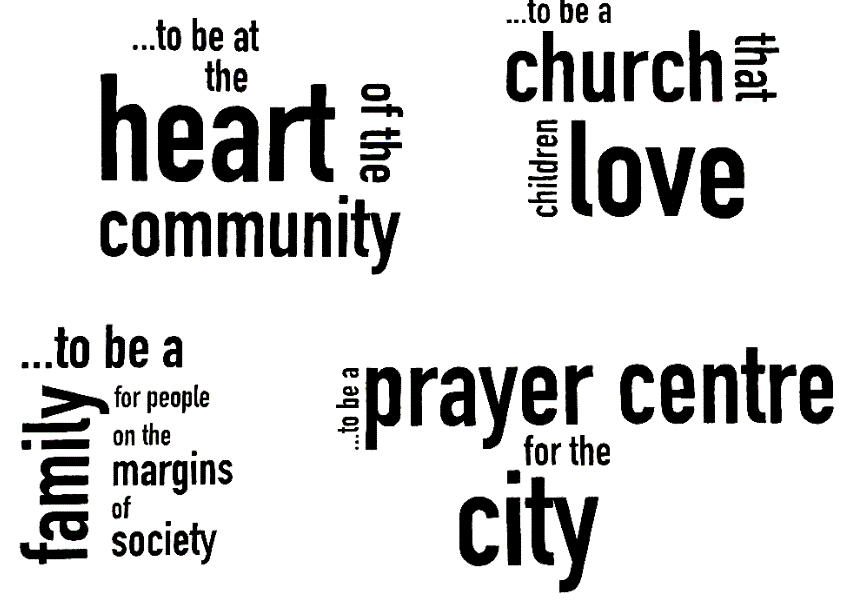 Sundays
Our main time of gathering together as a church family is on a Sunday morning each week. Our services begin with a free buffet breakfast at 10am and worship starts at 10:30. Our services have a big family feel; they are informal with worship led by a band and teaching from the Bible with separate groups for youth and children. The services are an ideal starting point if you would like to experience what it is like to be part of Hope Community Church.
Teaching and Training
We are a community on a journey, constantly growing and seeking to become more like Jesus. The Bible is our guide and source of truth, showing us who God is, who we are, and how we live life with Him.
In our Sunday talks we work through either a particular theme or a part of the Bible. All of our talks are recorded and available online on our website and in iTunes.
We encourage people who make Hope their home to position themselves for growth in four main ways:
•             Walking closely with 2 or 3 others from Hope to support and encourage each other in your faith. We call these groups 4s. Take a look at our 4s Guide on our website on the Blogs page.
•             Be part of our Sunday services where we come together as a whole church family. Most serve on a team once a month as part of this.
•             Investing in your personal relationship with Jesus through time in the bible and prayer.
•             Having a deliberately missional focus. This could be through joining one of our 'life boat' teams such as Food Bank, Celebrate Recovery or Little Stars, or it might be that your missional focus is your day job or your local community.
This "Vital Signs" picture (click here) shows some of the areas you can be involved and the resources available. 
Worship
Worship at Hope is primarily expressed in the way that we seek to live our lives. When we come together for Sunday services and a church in different contexts, sung worship is always an important part of our being together. As we sing we express our thanks and praise to Jesus. This sort of worship is also a time of spiritual encounter and we often sense God speaking to us as we sing together.
Serving is an important part of our worship. When we come together on Sundays and at other times one of our goals is 'every member ministry' – where all of us are actively part of what we're doing, using our gifts and giving as well as receiving.
Youth and children
We have always dreamt of being a church that children love. We are grateful to have lots of children and young people within Hope. On a Sunday morning we have various groups that meet in the second half of the service in Hope Chapel, in Hotwells Primary School and in other nearby locations. Our aim is that these are groups where youth and children encounter Jesus as well as learn about Him.
If you're new to Hope and with children, someone can steer you towards the right group for them.
Prayer Centre
Hope is a church and also a Prayer Centre for the city and nation. Between 1999 and 2003, through a number of chance encounters and prophetic words, the Lord laid it on Silas Crawley's heart to establish a centre of ongoing prayer and worship in the city of Bristol for the churches of Bristol. God provided all the finances for the building project and in November 2003 a light and spacious Prayer Centre for the churches in the city was officially opened in Hope Chapel. It is our desire that the space is used for prayer by people from all over our city.
The Prayer Centre is both an integrated part of Hope Community Church life where we are a praying and worshipping church but is also separate from Hope Community Church as a resource for the city. Various events happen on a regular basis around the Prayer Centre (which is no longer confined just to the room on the balcony). Tuesday mornings see Christians from across Bristol come together to pray at Hope from 9:45am. In 2019 we will be joining the new Bristol church's One Church One Day initiative, building towards 24/7 prayer for the city.
History
Hope community church is an independent Congregational church that is part of the Federation of Congregational Churches in the UK. Lady Henrietta Hope funded the building of this chapel but did not live to see its completion in 1788. The chapel was initially a thriving hub of the community but by the 1970s it had fallen into a state of disrepair and church attendance had dwindled. The chapel was rescued by the Hope Centre Trust, a group of local people keen to promote the building as a community and arts centre and for approximately 25 years it was run by the Hotwells and Cliftonwood Community Association. They still run the Hotwells Panto in Hope Chapel each year. In July 1999 the Congregational Federation officially closed the chapel as a church but shortly afterwards invited Silas and Annie Crawley to use Hope as the chapel for an emerging congregation. In October 2000 Hope Chapel was formally re-established as the home for Hope Community Church. In 2014, Chris and Alice Bond took over from Silas and Annie Crawley as Hope's pastors.
How can I be part of this?
There are lots of opportunities to be involved and by getting stuck in you'll get to know people and experience the best of Hope. It often takes some time to feel established in a church. Join a Sunday team once a month (these teams include hospitality, welcoming, PA, worship, and the various children's groups); join a life boat team (such as Soup Run, Little Stars, Celebrate Recovery, Hope On Wednesday, Night Shelter); and join a 4. See our service sheet, ask someone or contact the office for more details about all of these.
We also recommend that people who are new to Hope join a Living Free course. This teaches some wonderful truths which have transformed us as a church over the past 15 years.
Governance and accountability
People who have become established in Hope can become 'members' as a way of formalizing their commitment to the church. The membership of Hope appoints pastors and elders to direct and oversee the church. Mutual accountability exists between the pastors and elders as they oversee the church. Although Hope is an independent Congregational church we actively seek out accountability and relationship with other churches in Bristol (including Christ Church Clifton, Holy Trinity Hotwells, Pip n Jay, Woodlands, Severn Vineyard and others) and further afield (including the New Wine network and Bethel in California).
Funding
Hope is funded through the tithes and gifts of church members and people who worship at Hope. We describe this more fully in our booklet called 'a Little Guide to Money.' Copies of this are available on the Welcome Desk or online as a Blog.
If you would like to give financially to Hope you can make an online transfer from your bank or you can make a debit card payment via our website. We also have a collection box on the wall in the hall. Our bank details are – Sort Code: 40-52-40, Account Number: 00015773. Please let us know if you are setting up a payment by emailing [email protected] We are able to claim gift aid on your tithes and gifts if you are a UK tax payer.
More information
See our website for recent information as well as talk recordings, blogs and news of upcoming events. We also share news, stories and photographs through our Facebook and Instagram pages. We send out our 'Fortnightly Email' from the pastors, Chris and Alice, which includes a message about where we are going as a church as well as various notices and other information. Let us have your contact details if you would like to receive this.
Contact Us
The church office opening hours are:
Monday-Thursday, 10.15am-5pm
Hope Community Church
Hope Chapel
Hope Chapel Hill
Hotwells
Bristol
BS8 4ND
www.hopechapel.co.uk
 www.facebook.com/hopecommunitychurchhopechapel
 https://www.instagram.com/hopecommunitychurchbristol